Do you have targeted traffic?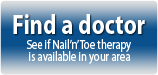 We buy banner space, ads and links on blogs and related websites
Nail'n'Toe is looking for affiliates who can help generate additional sign-ups, appointment requests and sales of anti-fungal products.
BACKGROUND
The OTC pharmaceutical industry and unregulated use of home remedies have impacted consumer's perception of foot and nail disorders by simplifying these complex disorders. As a result millions of people suffer from fungal foot and nail infections for decades and spend thousands of dollars on topical and oral medications, which lack clinical efficacy and may have harmful side effects.
Nail'n'Toe combines the most effective medical and environmental solutions available into a comprehensive and synergistic therapy course, which dramatically increases cure rates.
We are looking for ways to increase the awareness of the general population of these new advances in technology and treatment options.
If you manage a blog or a website with over 2,000 unique visitors a month, and your readers are interested in getting information about Nail'n'Toe, we would like to discuss the terms of a possible affiliation.
Contact us
now
We will contact you within two business days.